WHY ARF IS THE RIGHT CHOICE!
A Royal Flush is a family-owned-and-operated business that has been servicing the Northeast region for three decades. We value our employees and offer a positive company culture that allows individuals to thrive and grow professionally while enjoying the benefits you need to live your life
COMPETITIVE PAY Flexible Schedules
401k with Company Match
(effective 1/1/22)
PAID TIME OFF Holidays
Vacation
BONUS PROGRAM Referral Bonus
Mentoring Bonus
Sales Bonus
EDUCATION Advanced Job Training
Tuition Reimbursement
Certifications
Scholarship Programs
(effective 1/1/22)
HEALTH BENEFITS Medical, Dental, Vision Insurance
Hospital Indemnity Program
Life Insurance (effective 1/1/22)
Employee Assistance Program
Counseling Services
(family, financial, legal)
JOB PERKS Company Cell Phone
Company Uniform
What Makes Our Team
Exceptional
RELIABLE
You can rely on us!
Our clients confidently choose us because we always get the job done. Punctuality and efficiency are always at the forefront of every project.
ADAPTABLE
We make it happen!
We know that no two projects are alike. That's why we are expertly trained and knowledgeable in creating customized experiences tailored to the specific needs of each and every unique client and event.
SERVICE FIRST
We are here for you!
We champion customer service 7 days a week. Our friendly, professional and knowledgeable approach puts our clients at ease-and sets us apart from our competitors.
EXCEPTIONAL
We exceed expectations!
For more than three decades, our philosophy always has and always will be to exceed expectations-both our clients and our own.
COMMITTED
We take our commitments seriously!
Our commitment to excellence drives everything we do. From unmatched safety and customer service to eco-friendly products and practices, we're dedicated to being a best-in-class resource in the industry.
PROFESSIONAL
We have pride in all we do!
We maintain composure, communication and collaboration in everything we do. We respect ourselves, our fellow team members, and our clients.
Our family owned and operated company is always looking for dedicated, passionate and hard-working professionals to join our growing team.
At A Royal Flush, our goal is to always go above and beyond for our clients and provide a superior level of customer service. This has been our mission for 25-plus years and is what makes our team stand out.
ARF provides employees with competitive salaries, bonus programs, health benefits, paid vacation time, long-term career opportunities and a positive company culture. We believe in investing in our people through advanced training programs and workshops, and prioritize promoting from within.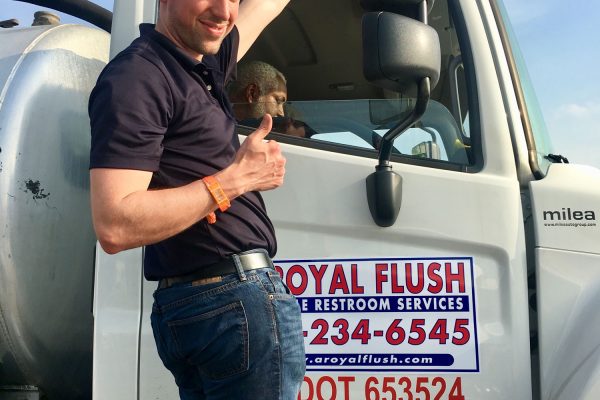 Drivers play an important role within our team. With branches in Connecticut, New York, Massachusetts, New Jersey and Pennsylvania, we have specialized teams of drivers linked to routes, deliveries and special events. We offer our drivers year-round work and benefits.
Does our team sound like a good fit to you? Click APPLY NOW below for open positions and to submit your contact information.